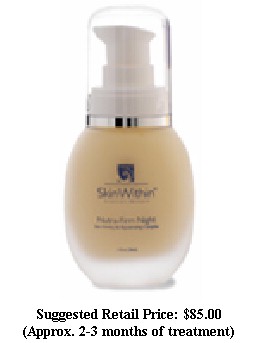 At night, while our bodies are resting, the skin has time to repair and rejuvenate itself. Nutra-Firm Night is a deluxe anti-aging treatment that combines the richest and most powerful concentrates into one incredible night-time formula.
Nutra-Firm Night contains DMAE and Alpha Lipoic Acid, both are new breakthroughs in skincare technology and have amazing firming and anti-oxidant capabilities. Formulated with CoEnzyme Q10, an essential skin nutrient that protects the skin from oxidative stress. Hyaluronic Acid has been added to replenish moisture which gives skin a healthy, well-nourished appearance. In addition Alpha Hydroxy Acids exfoliate dead surface cells and promote skin clarity. Nutra-Firm Night is enriched with vitamins A, B5, D & E, vital skin supplements that improve elasticity, stimulate collagen synthesis, evens pigmentation and diminishes the appearance of wrinkles and aged skin. Beech Tree, Cucumber and Ginseng, fortifying botanical extracts, have been added to soothe, balance and renew skin health.
NUTRAFIRM NIGHT INGREDIENTS: ALOE BARBADENSIS LEAF JUICE, PURIFIED WATER, CAPRYLIC/CAPRIC TRIGLYCERIDE, DIMETHYL MAE, BUTYLENE GLYCOL, ALPHA LIPOIC ACID, SODIUM PCA, CETEARYL ALCOHOL, GLYCOLIC ACID, CETEARYL GLUCOSIDE, TRIETHANOLAMINE, POLYSORBATE 60, HYDROXYETHYLACRLYATE/SODIUM ACRYLOYLDIMEHTYL TAURATE COPOLYMER, SQUALANE, CITRUS TANGERINA PEEL OIL, CITRUS GRANDIS PEEL OIL, PHENOXYETHANOL, ZINC RICINOLEATE, HYDROLYZED GLYCOSAMINOGLYCANS, XANTHAN GUM, SODIUM HYALURONATE, POLYETHER-1, PANAX GINSENG ROOT EXTRACT, PANTHENOL, BETACAROTENE, UBIQUINONE, EUPHRASIA OFFICINALIS EXTRACT, CUCUMIS SATIVUS FRUIT EXTRACT, FAGUS SYLVATICA SEED EXTRACT, RETINYL PALMITATE, TOCOPHEROL ACETATE, LAURETH-3, TETRAHYDROXYPROPYL ETHYLENEDIAMINE, ASCORBIC ACID, SORBIC ACID, FRAGRANCE & CARAMEL.
By using NutraFirm Night as directed, skin will return to a firmer, healthier, more luminous and youthful appearance. NutraFirm Night is ideal for both women and men. Recommended for all skin types.

More Info. To request more information about NutraFirm Night, CLICK HERE. We will respond promptly.